See you next year!
Thank you for attending the 2023 Great Lakes Chamber Music Festival. Information about the 2024 Festival will be available in spring of next year.
To keep up with the latest news and schedule of events, subscribe to our newsletter and follow us on our social media pages: facebook, instagram, twitter. 
If you have a question, please call 248-559-2097 our office, Monday through Friday, 9 AM – 5 PM or leave a message at any time.

Audio/Visual
June 17, 2022 @ 7:30 pm

-

9:30 pm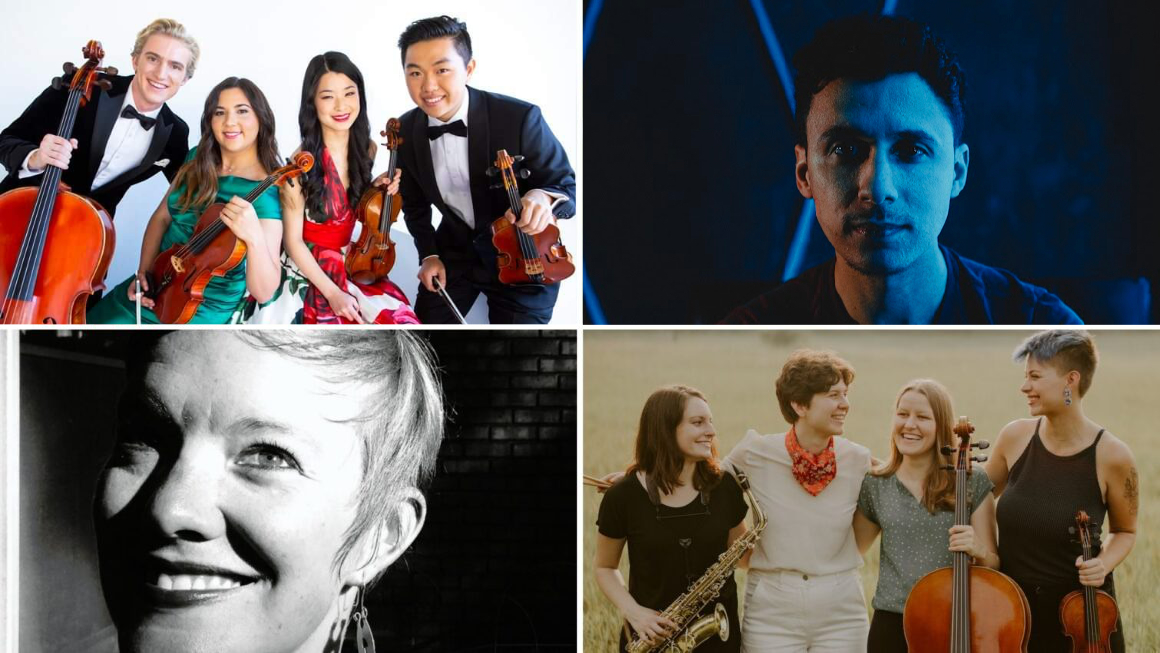 Audio/Visual
Friday, June 17 at 7:30 p.m. | Trinosophes
Sponsored by the Maxine and Stuart Frankel Foundation
ARTISTS | Viano String Quartet, Virago, Alan Hankers, Megan Heeres
The following pieces will be heard in excerpts, not in this order, connected
through improvisations.
Ludwig van Beethoven String Quartet No. 6 in B-flat major, Op. 18, No. 6
Alberto Ginastera String Quartet No. 1, Op. 20
Edvard Grieg String Quartet No. 1 in G minor, Op.27
Alan Hankers Emerging Light
Caroline Shaw Blueprint
Augusta Read Thomas Mansuetto Tribute, "double helix"
PROGRAM NOTES
Detroit-based ensemble Virago presents an exploration of sound, nature, paper and
process. This immersive performance features Festival artist-in-residence Megan Heeres,
Shouse ensemble the Viano String Quartet, and composer/pianist Alan Hankers.
Megan creates fantastical paper images and objects, handmade from recycled
plant material. Papermaking is a sensory experience that envelopes the maker in
the movement, sound, smell of the pulp and their own body's part in shaping it. The
resultant artwork is a beautiful recording of a labored and time-intensive process.
In Sound, Paper and Process, Megan takes us through moments of papermaking live.
Close-miking and video projection draw audiences and performers into this multisensory
experience. Virago, the Viano String Quartet, and Hankers amplify, illustrate,
complement, and contrast Megan utilizing improvisation and music by Hankers,
Shaw, Ginastera, Grieg and more. We are awakened to our senses in sticky processes
where the auditory, tactile, and visual intermingle.
Our host Trinosophes is an artist-run space, located inside a former spice processing
warehouse in the heart of Detroit's historic Eastern Market district.
Festival questions? Call us at 248-559-2097 Monday-Friday 9:30 a.m. to 5 p.m.
Click for information on our COVID-19 safety protocols.
Ticket Tips: 
To order tickets to more than 5 concerts, click on the Subscription button and SAVE 20%!
To purchase tickets to additional concerts, select from the concert BOXES below the cart and above the green continue button.
Details
Date:

June 17, 2022

Time:

7:30 pm - 9:30 pm

Event Categories:

Event Tags:
Venue
1464 Gratiot Ave




Detroit

,

MI

48207

United States

Phone

(313) 778-9258
Organizer
Phone

248-559-2097

Email

info@greatlakeschambermusic.org