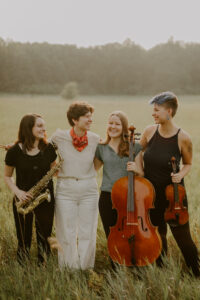 Virago is a new voice in classical music. Marked by intense chemistry and resistance to creative norms, Virago melds free improvisation and contemporary chamber music into a contagious headspace of out-of-the box expression. This unusually instrumented quartet improvises through collaborations with composers, audience members, visual artists, and musicians across genres, marking the path for the future of chamber music. 
Virago has performed at festivals, concert halls, local businesses and public spaces across Michigan. Listening for Bells, Virago's "bright, exuberant" debut EP featuring the music of Harriet Steinke, was released in January 2022. Virago is curating a performance for the Great Lakes Chamber Music Festival with visual artist Megan Heeres (June 2022), as well as presenting their site-specific micro-cinema with A.W.E. Society, The Infinite Detail of this Place and Time, on University Music Society's Parable Path A2 Ypsi (March 2022). The release of From Darkness We Awaken, an LP in collaboration with composer Michael Malis, is upcoming.
Passionate about the impact of free improvisation on personal and creative growth, Virago facilitates free improvisation workshops for K-12 students. Students are encouraged to access their creative voice more fluently and frequently, fostering abstract and critical thinking, highly democratic group decisions based on mutual respect and listening, risk-taking, and catharsis through personal creative expression. This ongoing program was piloted at Beecher Schools in Flint, MI and at Girls Rock Detroit. 
Virago was founded at the University of Michigan in 2018, and is based in Detroit, Michigan. Virago has been supported by the EXCEL Lab, ArtsEngine, Arts at Michigan, and the department of Diversity, Equity and Inclusion at the University of Michigan School of Music, Theatre and Dance. 
Virago is: Sofia Carbonara (percussion), Wesley Hornpetrie (cello), BethAnne Kunert (saxophone), and Meg Rohrer (violin/viola).
April 2022