For the past two decades, the Great Lakes Chamber Music Festival has fostered artistic excellence among young, emerging ensembles through the Catherine Filene Shouse Institute. Started in 1997, the educational program has launched the careers of many of today's leading classical ensembles, including eighth blackbird, Calidore String Quartet, Pacifica, Jupiter and Ariel Quartets, Axiom Brass, Donald Sinta Quartet and the Claremont Trio.
"It is vitally important for gifted ensembles to have a place to go where they can hone their skills and have the opportunity to culminate in public performances. This kind of experience can be so helpful to young chamber groups."
-Philip Setzer, Director of the Shouse Institute
"The Shouse Institute is such a special opportunity for young musicians to interact with peers in their field as well as an incredibly diverse group of mentors. My particular experience has meant so much to me since that time because I have found so many ways to deepened the relationships that began there, relationships that may not have developed if I had not been a part of the Festival. Additionally, the mentors are such incredible musical voices that made such an impression on me that I now often find myself in teaching situations where the guidance I received then is perfect fit to pass down to my own students."
-Jessica Bodner, Parker Quartet (Shouse Institute, 2004)
"Great Lakes was a most nurturing and inspiring festival that provided us the opportunity to collaborate with some of the most well-respected chamber musicians in our field today. Looking back, the Harlem Quartet is extremely grateful to have had this experience during our formative years as an ensemble,and we'll forever cherish our memories of the wonderful music-making that was had!"
-Melissa White, Harlem Quartet (Shouse Institute, 2008 and 2009)
"I've been very fortunate to attend several music festivals as an emerging artist. What I've found so special about Shouse was that I was treated like a colleague from the very beginning. The trust and support from the faculty and visiting artists is incredibly enriching."
-Kevin Rogers, Friction Quartet (Shouse Institute, 2016 and 2017)
The Shouse Experience
The Shouse Institute seeks emerging groups pursuing a career in chamber music. Participating ensembles are viewed not as students, but as young colleagues of the Festival artists. Each group is given multiple performance opportunities on Festival concerts, including collaborations with Festival artists. Shouse fellows enjoy intensive coaching opportunities with some of the world's most renowned chamber musicians.
Shouse Benefits
All Shouse fellows receive lodging, travel to and from the Festival, transportation assistance during the Festival, and per diem.
Eligibility
Qualified applicants are groups of 3 to 6 musicians. Duos will occasionally be considered. Wind, brass, percussion or mixed ensembles are eligible. Ensemble members should generally not be older than age 30 at the time of application, though there are no strict age requirements. Ensembles should be committed to a career in chamber music. Up to four ensembles will be selected to participate. No individual may apply for participation with more than one ensemble. No changes in personnel will be allowed once the application has been submitted, unless consent is given by the Festival.
2022 Shouse Institute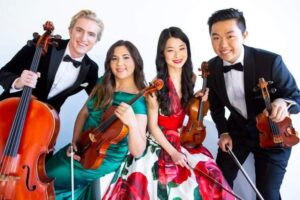 Praised for their "huge range of dynamics, massive sound and spontaneity" (American Record Guide), the Viano String Quartet captured international attention as the First Prize Winner of the 2019 Banff International String Quartet Competition and are now the current Nina von Maltzahn Graduate String Quartet-in-Residence at the Curtis Institute of Music. They have performed across the globe in venues such as Wigmore Hall, Konzerthaus Berlin, Izumi Hall, and Segerstrom Center for the Arts and have enjoyed collaborating with such esteemed artists as Emanuel Ax, Inon Barnatan, Noah Bendix-Balgley, Michelle Cann, Roberto Diaz, Marc-Andre Hamelin, Paul Neubauer, Orion Weiss, and vocalist Hila Plitmann.
This summer, the Viano Quartet will perform at the Great Lakes Chamber Music Festival, Chamber Music Northwest, Rockport Festival, Ottawa Chamberfest, and the Bard Festival, and they will return to the 2022 Banff International String Quartet Competition as alumni. They remained active through the Covid pandemic, presenting over a hundred virtual and live socially distanced events for organizations and festivals around the world, including the Bravo! Vail Music Festival, Deutschlandfunk Radio, Women's Musical Club of Toronto, Budapesti Őszi Fesztivál, and the Schneider Series in NYC.
The name "Viano" was created to describe the four individual instruments in a string quartet interacting as one. Each of the four instruments begins with the letter "v", and like a piano, all four string instruments together play both harmony and melody, creating a unified instrument called the "Viano."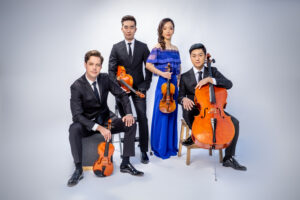 With their debut recording "Souvenirs" named Recording of the Year by BBC Music Magazine, Canada's Rolston String Quartet continues to receive acclaim for their "delicate but intense four-way dialogue, rhythmically and melodically flawless," and for their status as "one of the best in a very quartet-rich age" (Harald Eggebrecht, Süddeutsche Zeitung). The quartet was awarded First Prize at the 12th Banff International String Quartet Competition and was the 2018 recipient of the Cleveland Quartet Award from Chamber Music America—the first international ensemble chosen for that prestigious honor. Other accolades include Grand Prize at the 31st Chamber Music Yellow Springs Competition and Astral's National Auditions.
The quartet performs regularly throughout North America and Europe, enjoying debut performances at Carnegie Hall, Wigmore Hall, the Kennedy Center, and Koerner Hall. This season's engagements include the Chamber Music Society of Lincoln Center, an upcoming return performance at Wigmore Hall, and performances at the chamber music societies of Brussels, Calgary, Geneva, Munich, Philadelphia, Raleigh, San Diego, San Francisco, Vancouver, and others. 
Notable collaborators include Clive Greensmith, Gary Hoffman, Nobuko Imai, Yura Lee, Miguel da Silva, David Shifrin, and the Dover and St. Lawrence String Quartets. Formerly the Fellowship Quartet in Residence at Yale School of Music and the Graduate Quartet in Residence at Rice University, the quartet has taught at Glenn Gould School, University of Toronto, Yale School of Music, and the Bowdoin International Music Festival, among others.
Rolston String Quartet members:
Luri Lee, Violin
Jason Issokson, Violin
Hezekiah Leung, Viola
Peter Eom, Cello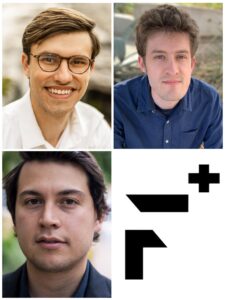 Praised for their "emotionally raw" performances (
Chicago Tribune), 
F-PLUS
 is a violin, clarinet, and percussion trio committed to collaborating with today's most exciting composers to establish a diverse repertoire for their unique instrumentation. Formed in 2016 at the Bang on a Can Summer Festival, the ensemble has performed all over the country, including Carnegie Hall's Weill Recital Hall, the Art Institute of Chicago, the Great Lakes Chamber Music Festival, the Ear Taxi Festival, the International Clarinet Association "ClarinetFest," and the New Music Gathering. 
F-PLUS
has premiered over 35 new works since its inception, including commissioned works by Chicago Symphony Mead Composer-in-Residence Jessie Montgomery, Grawemeyer-winner George Tsontakis, Emma O'Halloran, Matthew Ricketts, and Charles Peck, among many others. The ensemble has been the recipient of commissioning grants from Chamber Music America, the Barlow Endowment for Music Composition, the Canada Council for the Arts, the Irish Arts Council and the New Zealand Arts Council.
F-PLUS
is committed to working with the next generation of composers and performers and has held residencies at the Cincinnati College-Conservatory of Music, Washington University (St. Louis), University of Texas-Austin, University of North Carolina-Greensboro, and Grand Valley State, Central Michigan, Stony Brook, Duke, and Illinois State Universities.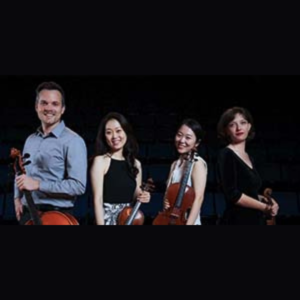 Formed in September 2019, the Pelia String Quartet is composed of doctoral students from the Music Department at Stony Brook University.
The highlight of the 2020-2021 season was being chosen as the resident string quartet for the State University of New York (SUNY) Artist Residency. The year-long residency focused on enriching and mentoring young musicians. Members of the Pelia String Quartet taught private lessons, coached chamber ensembles, and created a curriculum of lectures and demonstrations. The quartet specifically designed the curriculum to teach aspects of playing in a string quartet and how to work together in a chamber ensemble. The culmination of the SUNY residency was a final concert and Q & A session which was broadcast via the internet to hundreds of students at several schools and youth orchestras.
Since its inception, the Pelia String Quartet has been studying at the Emerson String Quartet Institute at Stony Brook University where the ensemble is coached by the Emerson String Quartet and David Finckel.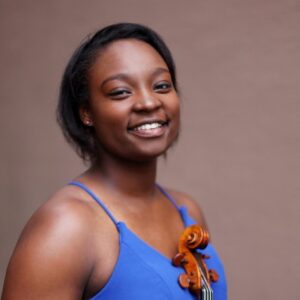 2022 Sphinx Fellow
Kevonna Shuford is a vibrant violist who has a passion for collaborative projects. Kevonna completed a bachelor's degree at the New England Conservatory under the tutelage of Martha Katz. She is currently a member of the Boston Philharmonic and also performs with numerous Boston based ensembles. A native of Florida, she established a youth string program at Faith's Place Center for Arts Education. With a continued love for teaching, she is a current resident musician with Musiconnects. Kevonna served as principal viola under the baton of Valery Gergiev and has had the pleasure of working with esteemed artists such as Janine Jansen, Denis Matsuev, Emmanuel Ax, Jaime Laredo,and Christoph Eschenbach. Additionally, she has had the opportunity to play in masterclasses for distinguished artists such as Kim Kashkashian, Paul Katz, Dimitri Murrath, and Clive Greensmith. As a member of the National Youth Orchestra (2016), Kevonna greatly enjoyed traveling to new places through past performances at major concert halls across Europe and the US, such as the Concertgebouw and Carnegie Hall; now, she is an avid outdoor enthusiast and enjoys taking walks or rollerblading around Boston.