A NOTE FROM PAUL WATKINS, ARTISTIC DIRECTOR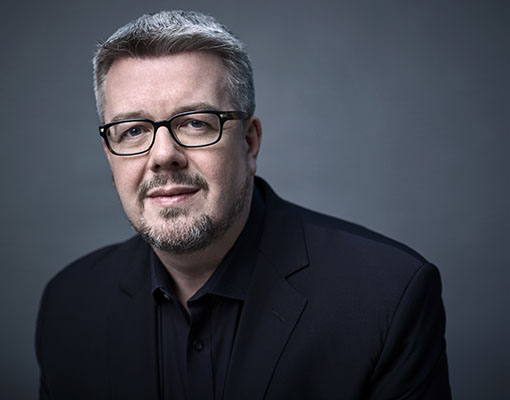 "…the rhythms of nature, large and small – the sounds of wind and water, the sounds of birds and insects – must inevitably find their analogues in music." – George Crumb
Welcome to the 2022 Great Lakes Chamber Music Festival! I am excited to share with you a packed program featuring extraordinary artists and life-enhancing music. I chose to begin this welcome letter with the words of the visionary American composer George Crumb, who passed away in February, because they perfectly encapsulate the theme of this year's festival: music inspired by the natural world.
The thread of nature-inspired music runs through this year's diverse repertoire. We have music from the Baroque period to the present day, reflecting a multitude of musical responses to the environment, living things and the human condition. As well as masterpieces by Vivaldi, Haydn, Mozart, Beethoven and Schubert, I have chosen brilliant works by composers such as Clara Schumann, Samuel Coleridge-Taylor, Amy Beach, and a wonderful group of living composers including Matthew Barnson, Sally Beamish, Valerie Coleman, Gabriela Lena Frank, Jessie Montgomery, Augusta Read Thomas, Caroline Shaw and Huw Watkins. I am also delighted to welcome my colleague from Stony Brook University, Perry Goldstein, who will be this year's Stone Composer in Residence. He has collaborated with his longtime friend, the Pulitzer Prize-winning author Richard Powers, on a song cycle, Birding by Ear, which will receive its world premiere at Temple Beth El.
To perform this astonishing range of music, we welcome back familiar artists and friends, as well as some wonderful musicians who will be new to our audience. Our Shouse Institute, headed by Philip Setzer, is rich in string quartets this year: the Rolston, Viano and Pelia quartets are all outstanding ensembles and will be joined by the returning contemporary group, F-Plus. Our Sphinx Fellow will be the violist Kevonna Shuford.
The Festival will be a feast for the eyes as well as the ears, with contributions from our visual artist, Megan Heeres. I am also personally thrilled and honored to be collaborating with the legendary dancer Peter Sparling, in a video interpretation of Schubert's song cycle Winterreise, featuring the captivating tenor, Nicholas Phan.
I hope that our Festival program will, in the midst of so many global crises, offer a chance to reflect on the ever-present beauty of the world around us and refresh our spirits with great music.
Warmly,
Paul Watkins