See you next year!
Thank you for attending the 2023 Great Lakes Chamber Music Festival. Information about the 2024 Festival will be available in spring of next year.
To keep up with the latest news and schedule of events, subscribe to our newsletter and follow us on our social media pages: facebook, instagram, twitter. 
If you have a question, please call 248-559-2097 our office, Monday through Friday, 9 AM – 5 PM or leave a message at any time.

Virtual Vignette with Nick Photinos and Yasuko Oura
March 24, 2021 @ 5:30 pm

-

6:30 pm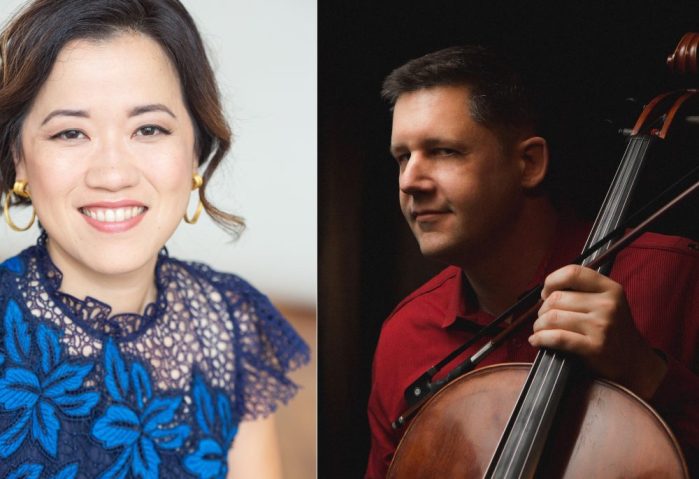 Virtual Vignette with Nick Photinos and Yasuko Oura
Wednesday, March 24 | 5:30 p.m. EST
Artists | Nick Photinos, cello; Yasuko Oura, piano
We welcome you to join our Virtual Vignette series, a concert series dedicated to supporting artists while bringing world-class performances and insightful conversation straight to your home. Each 60-minute event includes a 30-40 minute recently recorded chamber music performance, followed by live Q&A dialog with the performers, moderated by Festival Artistic Director Paul Watkins.
The program, entitled Time Transfixed, takes its name from Australian composer Maria Grenfell's work, which is taken from surrealist René Magritte's painting of the same name, depicting a stopping of time (bare walls, a clock) and also motion and movement (a train coming out of a fireplace, steam bellowing from its engine). Maria experienced this work as an eerie pause of time, much how many of us are experiencing the pandemic. These pieces all demonstrate this sense of timelessness each in their own way, simultaneously frozen and yet still moving ahead.
Caroline Shaw In Manus Tuas
John Adams Road Movies Mvmt. II
Angelica Negron Panorama
Maria Grenfell Time Transfixed 
This concert is generously sponsored by Gwen & S. Evan Weiner
As host for the Virtual Vignettes, Paul Watkins is sponsored by Rayna & Natalio Kogan
Details
Date:

March 24, 2021

Time:

5:30 pm - 6:30 pm

Event Category:
Venue