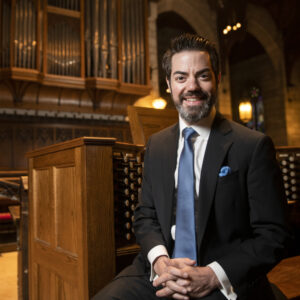 Scott Hanoian is the Music Director and Conductor of the University Musical Society Choral Union where he conducts and prepares the Grammy Award winning chorus in performances with the world's finest orchestras and conductors. Choruses prepared by Hanoian have sung under the batons of Leonard Slatkin, Ivan Fischer, Stefan Sanderling, Kenneth Kiesler and Peter Oundjian.
Hanoian is active as an organist, accompanist, continuo artist, conductor, choral adjudicator, and guest clinician. He is the Director of Music and Organist at Christ Church Grosse Pointe, where he directs the church's four choirs and oversees the yearly concert series. Mr. Hanoian has served on the faculty of Wayne State University and Oakland University and was the artistic director and conductor of the Oakland Choral Society from 2013–2015.
As an organist and conductor, Hanoian has performed concerts throughout the US and has led choirs on trips to Great Britain, Ireland, Italy, France, and Spain. In the summer of 2017, Hanoian led the Christ Church Schola during their weeklong residency at Westminster Abbey.
Before moving to Grosse Pointe, Hanoian was the Assistant Organist and Assistant Director of Music at Washington National Cathedral where he played the organ for many services including the funerals for Presidents Ronald Reagan and Gerald Ford. Hanoian has recorded the complete organ works of Johannes Brahms for the JAV label.