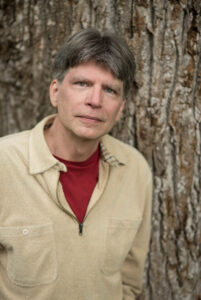 Excerpted from Understanding Richard Powers by Joseph Dewey:
Powers's characters themselves shift between the impulse to connect and its inevitable crash and burn; between the Emersonian urge to embrace the difficult ad-lib of the world and the Dickinsonesque need to recoil from its evident bruising into the supple sanctuary of the aesthetic enterprise, to withdraw into the secured refuge of a novel, a piece of music, a movie house, a museum, even cyberspace. Although long reluctant to encourage the distraction of biography, Powers has lived–like his characters–sustained within a curiously similar geography; never quite at home, never quite comfortable with belonging, shifting between engagement and escape. Powers was born 18 June 1957 in Evanston, Illinois, the fourth of five children, two older sisters and a brother and one younger brother. Early on, in the mid-1960s, his father, a high school principal with a working-class background, moved the family to the north Chicago suburb of Lincolnwood, an older neighborhood, Powers recalls, that was heavily Jewish. "My sisters and brothers and I would be just about the only kids in school for the high holy days."
He continues, "I always had a sense that we weren't quite native, a self-image compounded when we moved to Bangkok right before my eleventh birthday." Powers then spent what he has frequently described as five "eye-opening" years in Thailand when his father accepted an appointment with the International School of Bangkok during the height of the American military presence in Southeast Asia. Amid such dramatic relocations, the young Powers discovered the aesthetic sanctuary: he tapped into both a sustaining love of music (an accomplished student of vocal music, he trained in the cello but also plays guitar, clarinet, and saxophone) and a restless curiosity fed by voracious reading.
© 2002 by Joseph Dewey
Sponsored by: Martha Pleiss
April 2022