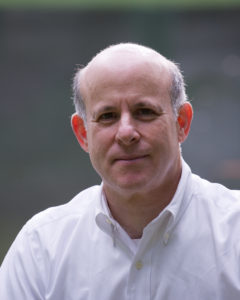 Perry Goldstein (born 1952) studied at the University of Illinois, UCLA, and Columbia University, from which he received a doctorate in music composition in 1986. Goldstein composes primarily chamber and solo music. A fortuitous meeting in 1992 with the Aurelia Saxophone Quartet, a Dutch ensemble, influenced the trajectory of his compositional career.  Almost one-third of his 60-piece oeuvre is for saxophone, including seven works for saxophone quartet, and many of his works have entered the standard repertoire for the instrument.  This aspect of his work is represented in the Great Lakes Music Festival by his Quintet for Alto Saxophone and String Quartet.
Goldstein has written four pieces for solo voice, all in collaboration with Pulitzer Prize-winning author Richard Powers.  These include a song cycle on the expedition to the South Pole by Robert Falcon Scott, composed in 2005 for the U.S. Military Band at West Point.  The Great Lakes Festival will feature the premiere of their most recent collaboration entitled Birding By Ear, comprising six songs on bird texts.  The Festival will also present the premiere performance of Jittery Engine, composed for the trio F-Plus.  Goldstein's music is represented on over 20 compact discs and he is author of Rudiments of Music, published by Kendall-Hunt, and co-author of A New Approach to Sight Singing, published by W.W. Norton.
A dedicated educator, Goldstein holds the title "SUNY Distinguished Service Professor" and is a member of the State University of New York Distinguished Academy.  He has been on the faculty of Stony Brook University since 1992 and recently stepped down as chair of the Music Department after serving in that capacity for nine years.
Sponsored by: Stone Composer Endowment
April 2022