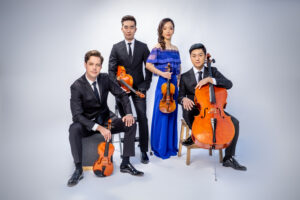 With their debut recording, "Souvenirs" recently named BBC Music Magazine 'recording of the year', Canada's Rolston String Quartet continues to receive acclamation and recognition for their musical excellence. As the 2018 recipient and first international ensemble chosen for the prestigious Cleveland Quartet Award from Chamber Music America, their accolades and awards precede them. In 2016, a monumental year, they won First Prize at the 12th Banff International String Quartet Competition, Grand Prize at the 31st Chamber Music Yellow Springs Competition, and Astral's National Auditions. 
The quartet are associated artists at the Queen Elizabeth Music Chapel and completed a two-year term as the Yale School of Music's fellowship quartet-in-residence in spring 2019. Previously, they were the graduate quartet-in-residence at Rice University's Shepherd School of Music. Keeping in the teaching tradition, they have taught at the Yale School of Music, University of Toronto, and the Bowdoin International Music Festival among others. Primary mentors include the Brentano Quartet, James Dunham, Norman Fischer, and Kenneth Goldsmith, and the quartet has received additional guidance from the St. Lawrence String Quartet, Miguel da Silva, and Alastair Tait. 
The Rolston String Quartet was formed in the summer of 2013 at the Banff Centre for Arts and Creativity's Chamber Music Residency. They take their name from Canadian violinist Thomas Rolston, founder and long-time director of the Music and Sound Programs at the Banff Centre. 
Luri Lee plays a Carlo Tononi violin, generously on loan from Shauna Rolston Shaw. The Rolston String Quartet performs on the Eugène Ysaÿe quartet of instruments. The set was made by Samuel Zygmuntowicz, and is on generous loan from the El Pasito Association. The Rolston String Quartet is endorsed by Jargar Strings of Denmark.
Sponsored by: Jaffe Raitt Heuer & Weiss
April 2022