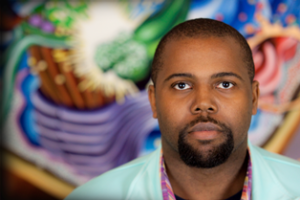 Senghor Reid explores the interactions between the human body and the environment, creating visual representations of dreams, memories and traces of human contact with nature. Document, relationship, human body, mark-making, visual, memory, evidence, imprint. Art, the social sciences and our interactions with the natural environment. 
The explicit purpose of these paintings is to document large bodies of water.  When using the figure I want to explore the relationship between the human body and water.  In the making of these paintings I will explore mark-making techniques and visual devices to enhance the level of spatial depth in the paintings.
My implicit purpose for this exercise is to prepare myself for a possible future in which large bodies of fresh water can only be remembered.  Thus, the only reference material available to me resides in my memory.  Duplication of these drawings lies inherently in the process.  The automatic transference of drawings to another sheet of paper ensures the archiving of my memories of water, both individually and collectively. Currently, his work explores the impact of deindustrialization on human brain function in the area of actualization.  
Reid earned a BFA from the University of Michigan (Ann Arbor, MI); a Masters of Teaching in Art Education from Wayne State University (Detroit, MI) and attended the internationally recognized Marathon Program at the New York Studio School of Drawing, Painting and Sculpture (NY, NY).  He is currently an Artist-in-Residence at the Cranbrook Schools (Bloomfield Hills, MI) and is a National Board Certified Visual Arts Educator. His work is in private, public and corporate art collections.
Sponsored by the Edw. C. Levy Co.