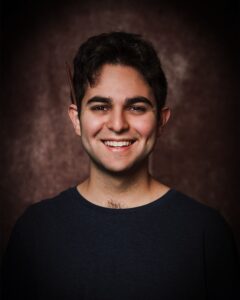 Composer Kian Ravaei (b. 1999) is obsessed with notes, and the indescribable feelings they inspire within us. Whether he is composing piano preludes inspired by mythical creatures, flute melodies that mimic the songs of endangered birds, or a string quartet that draws from the Iranian music of his ancestral heritage, he takes listeners on a spellbinding tour of humanity's most deeply felt emotions.
Ravaei's music has been performed by sought-after artists such as guitarist Eliot Fisk and violinist Bella Hristova, and by notable ensembles including Salastina and Juventas New Music Ensemble. He served as a 2022 Copland House CULTIVATE Fellow, participating in an emerging composers institute at Aaron Copland's National Historic Landmark home. Ravaei was recently featured on an episode of Performance Today, America's most popular classical music radio program. His string quartet Family Photos has received numerous awards, including First Prize in the Spectrum Chamber Music Composition Competition, Second Prize in the instrumental chamber music division of the American Prize, and Honorable Mention in the Tribeca New Music Young Composer Competition.
Born to Iranian immigrants, Ravaei maintains close ties to the Iranian community in his hometown of Los Angeles (or, as Iranians often call it, Tehrangeles). His multicultural arrangement of the Iranian folk song Morgh-e Sahar — the unofficial anthem for Iranian freedom — was performed at Farhang Foundation's annual Nowruz celebration, the largest Iranian New Year celebration outside Iran. A passionate speaker, Ravaei delivered a one-hour public lecture on the relationship between music and identity as part of the UCLA Iranian Music Lecture Series. Many of his works combine the ornamented melodies of Iranian classical music with the colorful harmonies of Western classical music.
Ravaei studied music composition at UCLA and the Curtis Institute of Music Young Artist Summer Program.