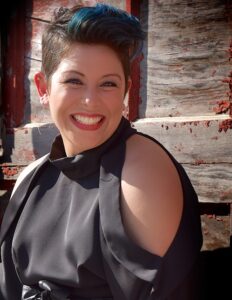 Recognized for her "vocal brilliance" (City Pleasures) and "absolutely thrilling" voice (Around the Town Chicago), Metro-Detroit based soprano, Jocelyn (Zelasko) Conselva, is a versatile musician who is celebrated as an insightful performer with a captivating stage presence. She has "shaken the halls with sublime ecstatic vocals" (I Care if You Listen) performing chamber music, opera, and art song in festivals and concerts throughout Europe, the Caribbean, and North America. Her career began in the classical realm, but a passion for making complex vocal music accessible to audiences led her to pursue new music.
Zelasko is the vocalist for Detroit's premiere contemporary chamber music ensemble, New Music Detroit (NMD), and a founding member of contemporary performance collective Juxtatonal (JUX). As an advocate for the creation of new works, she has commissioned 20+ composers including Angélica Negrón, Marcus Elliot, Vid Smooke, Michelle McQuade Dewhirst, and Jorge Sosa. She also frequently collaborates with Picosa, Grammy award-winning ensemble Eighth Blackbird, and EcoSono.
She received bachelor's degrees in vocal performance and economics from Oakland University where Zelasko was also a scholarship athlete. Furthering her education, she received a master's degree in music from the University of Iowa. She studied with acclaimed voice professor Dr. Edith Diggory and voice scientist Dr. Ingo Titze. When not on stage, you can find her creating in the ArtOps office, competing on the golf course, or squishing her kittens at home.