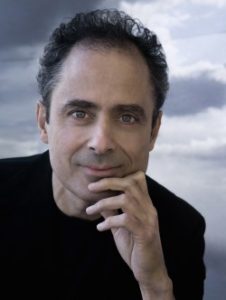 Violinist Eugene Drucker, a founding member of the Emerson String Quartet, is also an active soloist. He has appeared with the orchestras of Montreal, Brussels, Antwerp, Liege, Hartford, Richmond, Omaha, Jerusalem and the Rhineland-Palatinate, as well as with the American Symphony Orchestra and Aspen Chamber Symphony.
A graduate of Columbia University and the Juilliard School, where he studied with Oscar Shumsky, Drucker was concertmaster of the Juilliard Orchestra, with which he appeared as soloist several times. He made his New York debut as a Concert Artists Guild winner in the fall of 1976, after having won prizes at the Montreal Competition and the Queen Elisabeth Competition in Brussels. Drucker has recorded the complete unaccompanied works of Bach, reissued by Parnassus Records, and the complete sonatas and duos of Bartók for Biddulph Recordings. His novel, The Savior, was published by Simon & Schuster in 2007 and has appeared in a German translation called Wintersonate, published by Osburg Verlag in Berlin. Drucker's compositional debut, a setting of four sonnets by Shakespeare, was premiered by baritone Andrew Nolen and the Escher String Quartet at Stony Brook in 2008; the songs have appeared as part of a 2-CD release called "Stony Brook Soundings," issued by Bridge Recordings in the spring of 2010.
Eugene Drucker lives in New York with his wife, cellist Roberta Cooper, and their son, Julian.
Violins: Antonius Stradivarius (Cremona, 1686), Samuel Zygmuntowicz (NY, NY 2002)
Sponsored by Cecelia Benner