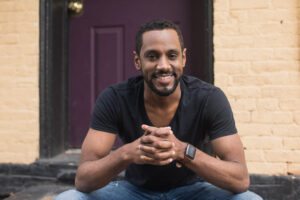 Having grown up in Atlanta, with a long lineage of preachers and connections to gospel music to inspire him, Simon proves that a well-composed song can indeed be a sermon. His compositions span genres – jazz, gospel, and contemporary classical music are noticeable influences – and can be found everywhere from film scores to concert music.
Simon is the current Composer-in-Residence for the John F. Kennedy Center for the Performing Arts and frequently writes for the National Symphony Orchestra and Washington National Opera, with the 2022/23 season seeing premieres with Boston Symphony Orchestra, Detroit Symphony Orchestra, Brooklyn Art Song Society and Minnesota Orchestra – a large-scale tribute to George Floyd and the ongoing movement for racial justice. 
These follow recent other commissions from the likes of New York Philharmonic and Los Angeles Philharmonic, and performances from Baltimore Symphony Orchestra, London Symphony Orchestra, and American Ballet Theatre.
Stone Composer-in-Residence