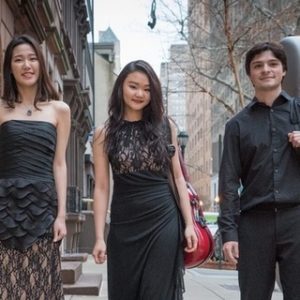 The AYA Trio was formed in 2013 at the Curtis Institute of Music where they have since studied with Peter Wiley as their main coach, Jonathan Biss, Arnold Steinhardt and Meng-Shieh Lieu.
The Trio has participated in masterclasses with Peter Wiley, Robert Levine, Noah Bendix-Bagely, Peter Stumpf  and Jessica Lee, and have performed numerous times in the Philadelphia Area including performances in the Philadelphia Club and the Curtis Institute of Music.
The AYA Trio was awarded 1st prize in the 2018 WDAV Chamber Music Competition as well as advancing to the semi-finals of the 2018 MPrize and Fischoff Chamber music competitions.
Beverly Franzblau Baker Young Artist Chair