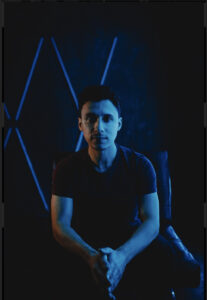 Described as "atmospheric and striking" by Outburn Magazine, the music of composer and pianist Alan Hankers can be heard in concert halls, on television, and on albums alongside world-renowned musical artists.
As a composer of symphonic and chamber works, Alan's music has been performed throughout the United States, Europe, and Asia at venues such as Lincoln Center, New World Center, Koger Center for the Performing Arts, and Musikhusset Aarhus. He has worked with numerous ensembles including the Pacific Chamber Orchestra (Dream American Fellowship, 2021), Ensemble Edge (Composer-in-Residence, 2017-2019), South Carolina Philharmonic's Repertory Orchestra, Calidore String Quartet, and others.
With an ever-growing passion for film and collaboration, Alan has garnered dozens of film and TV credits as a composer and sound designer. Recent clients include Lincoln Automotive, Amazon, Nintendo, and others. His score for the short film 'Color Blind' was awarded the Roger Taylor Best Score Award at the Idyllwild International Film Festival.
As a pianist/keyboardist, Alan has been praised by Metal Hammer (UK) and Prog Magazine. He currently plays with the American progressive metal band, JIA, and has embarked on tours opening up for artists such as Intervals, Plini, Scar Symmetry, Monuments, and others. He is also a founding member of the contemporary classical trio, Pathos Trio, where he has appeared in performances at Lincoln Center, New World Center, and other prestigious venues. Pathos Trio is set to release their debut album through New Focus Records in March of 2022.
Alan completed his Ph.D. in Music Composition at Stony Brook University, where he was awarded the Ackerman Prize for Excellence in Graduate Studies. He has taught at Montclair State University and Stony Brook University.
Stone Composer Fellow
April 2022