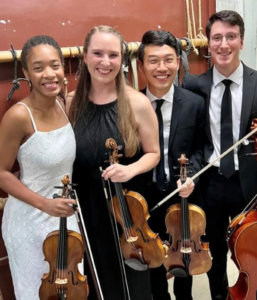 The Abeo Quartet, formed at Juilliard in 2018, is the inaugural Graduate String Quartet in Residence at the University of Delaware under the mentorship of the Calidore String Quartet. Abeo's accomplishments include being among ten quartets invited to participate in the 14th Banff International String Quartet Competition in 2022. The quartet was also a First Prize and Audience Favorite Prize winner in the Yellow Springs Chamber Music Competition for Emerging Professional Ensembles and Silver Medal winner of the Chesapeake International Chamber Music Competition, both in 2022. The quartet was a finalist in the 2021 Young Concert Artists International Competition and the silver medal winner of the 2019 Fischoff National Chamber Music Competition.
Abeo has also appeared in Alice Tully Hall, The Kennedy Center's Reach Festival with pianist Joseph Kalichstein, the Chamber Music Society of Lincoln Center's masterclass series with the Danish String Quartet, and on WQXR's Midday Masterpieces. Abeo participated in Norway's 2019 Vertavo Festival, performing seven Haydn string quartets and was in residence at the Glenstone Museum, debuting "Moonshot" by Alistair Coleman. Abeo has participated in the Montreal International String Quartet Academy, studying with members of Quatuor Ebene, Alban Berg, Takács, Artemis, Cecilia and Meta4 String Quartets. In 2022, they also performed in the Music@Menlo Chamber Institute and Workshop and the Juilliard String Quartet Workshop. In 2021, the Abeo Quartet attended the Norfolk Chamber Music Festival, coached by the Brentano, Emerson and Miró quartets.
During their time at Juilliard, Abeo studied regularly in the Honors Chamber Music Program under the tutelage of The Juilliard String Quartet with Joseph Lin, Astrid Schween and Roger Tapping. The quartet chose the name Abeo / ah – bey – oh / — an expression of joy in a Nigerian dialect — to reflect their love for playing chamber music and sharing it with others.
Sponsored by Taft Stettinius & Hollister, LLP