For the past two decades, the Great Lakes Chamber Music Festival has fostered artistic excellence among young, emerging ensembles through the Catherine Filene Shouse Institute. Started in 1997, the educational program has launched the careers of many of today's leading classical ensembles, including eighth blackbird, Calidore String Quartet, Pacifica, Jupiter and Ariel Quartets, Axiom Brass, Donald Sinta Quartet and the Claremont Trio.
"It is vitally important for gifted ensembles to have a place to go where they can hone their skills and have the opportunity to culminate in public performances. This kind of experience can be so helpful to young chamber groups."
-Philip Setzer, Direct of the Shouse Institute
"The Shouse Institute is such a special opportunity for young musicians to interact with peers in their field as well as an incredibly diverse group of mentors. My particular experience has meant so much to me since that time because I have found so many ways to deepened the relationships that began there, relationships that may not have developed if I had not been a part of the Festival. Additionally, the mentors are such incredible musical voices that made such an impression on me that I now often find myself in teaching situations where the guidance I received then is perfect fit to pass down to my own students."
-Jessica Bodner, Parker Quartet (Shouse Institute, 2004)
"Great Lakes was a most nurturing and inspiring festival that provided us the opportunity to collaborate with some of the most well-respected chamber musicians in our field today. Looking back, the Harlem Quartet is extremely grateful to have had this experience during our formative years as an ensemble,and we'll forever cherish our memories of the wonderful music-making that was had!"
-Melissa White, Harlem Quartet (Shouse Institute, 2008 and 2009)
"I've been very fortunate to attend several music festivals as an emerging artist. What I've found so special about Shouse was that I was treated like a colleague from the very beginning. Thetrust and support from the faculty and visiting artists is incredibly enriching."
-Kevin Rogers, Friction Quartet (Shouse Institute, 2016 and 2017)
The Shouse Experience
The Shouse Institute seeks emerging groups pursuing a career in chamber music. Participating ensembles are viewed not as students, but as young colleagues of the Festival artists. Each group is given multiple performance opportunities on Festival concerts, including collaborations with Festival artists. Shouse fellows enjoy intensive coaching opportunities with some of the world's most renowned chamber musicians.
Shouse Benefits
All Shouse fellows receive lodging, travel to and from the Festival, transportation assistance during the Festival, and per diem.
Eligibility
Qualified applicants are groups of 3 to 6 musicians. Duos will occasionally be considered. Wind, brass, percussion or mixed ensembles are eligible. Ensemble members should generally not be older than age 30 at the time of application, though there are no strict age requirements. Ensembles should be committed to a career in chamber music. Up to four ensembles will be selected to participate. No individual may apply for participation with more than one ensemble. No changes in personnel will be allowed once the application has been submitted, unless consent is given by the Festival.
2018 Shouse Ensembles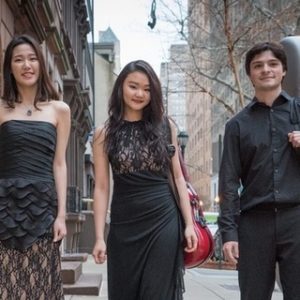 The AYA Trio was formed in 2013 at the Curtis Institute of Music where they have since studied with Peter Wiley as their main coach, Jonathan Biss, Arnold Steinhardt and Meng-Shieh Lieu.
The Trio has participated in masterclasses with Peter Wiley, Robert Levine, Noah Bendix-Bagely, Peter Stumpf  and Jessica Lee, and have performed numerous times in the Philadelphia Area including performances in the Philadelphia Club and the Curtis Institute of Music.
The AYA Trio was awarded 1st prize in the 2018 WDAV Chamber Music Competition as well as advancing to the semi-finals of the 2018 MPrize and Fischoff Chamber music competitions.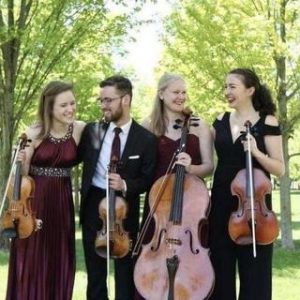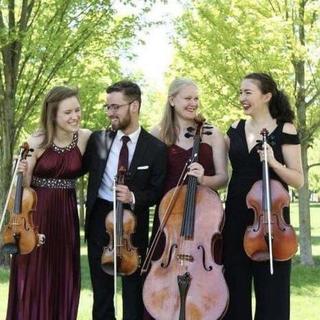 Formed in 2016 at the Cleveland Institute of Music, the Callisto Quartet brings together four dedicated and passionate musicians who share a love for chamber music. The quartet is based at CIM and works primarily with Si-Yan Darren Li and Peter Salaff. They have also had the opportunity to play in coachings and master classes for Mathieu Herzog, Noah Bendix-Balgley, Elliott Antokoletz and members of the Alban Berg, Belcea, Danish, Escher, Vermeer and Ying Quartets.
The Callisto Quartet was selected as the CIM Apprentice Quartet for 2017, a position which includes extensive education and performance activities throughout the Cleveland community and a recital on the Cleveland Chamber Music Society's concert series. They are also featured as Ensemble-in-Residence at the Carolina Music Museum in Greenville, SC. The quartet was a prizewinner at the 2018 Wigmore Hall International String Quartet Competition, and was selected to compete in the 2018 Melbourne International Chamber Music Competition.
In the summer of 2017 the quartet received a fellowship to study at the Norfolk Chamber Music Festival with members of the Brentano, Miro and Emerson quartets. They have also attended the Juilliard String Quartet Seminar, the McGill International String Quartet Academy and the Robert Mann String Quartet Institute. In April 2018 they attended the Prussia Cove International Musicians Seminar where they were invited to study with Gerhard Schulz. Performances this past year include an appearance with David Geringas at the Cleveland Cello Society's 20th anniversary concert.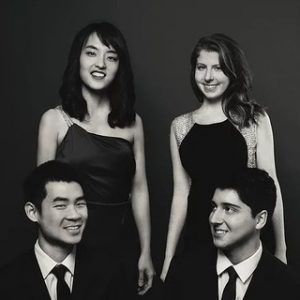 Comprising violinists Mason Yu and Erica Tursi, violist Jinsun Hong, and cellist Alex Cox, the Omer Quartet is a leader among today's young string quartets. Most recently first prizewinners of the Young Concert Artists Auditions, the quartet was also top prizewinners of the XI Premio Paolo Borciani Competition in Italy, the Trondheim Competition in Norway, the Bordeaux International Competition in France, and the Fischoff National Chamber Music Competition. Critics have praised the quartet for playing with a "sense of discovery and adventure, but also with considerable finesse." Having just completed a graduate residency at the New England Conservatory, they are currently the Doctoral Fellowship String Quartet in residence at the University of Maryland.
The quartet has performed with internationally renowned artists such as Kim Kashkashian, Clive Greensmith, Eugene Drucker, Cho-Liang Lin, the Assad Brothers, the Borromeo String Quartet, and collaborated with composers such as Sean Shepherd and Perry Goldstein. They were invited to the Banff International String Quartet Competition, the Great Lakes Chamber Music Festival, McGill International String Quartet Academy, the Ravinia Steans Institute, and the Perlman Music Program. They have also served on the faculty of New England Conservatory's Preparatory School.
Committed to community engagement, the quartet devotes time to creating original and interactive programs. They have inaugurated a Music for Food concert series with the help of grant funds from Tarisio Auction House in the metro-DC area with the mission to support local hunger relief. Their first concert created nearly 6000 meals and involved guest violist and founder of Music for Food, Kim Kashkashian alongside other University of Maryland faculty.  Previous projects funded by grants included a Boston Foundation award to sponsor performances in venues such as homeless shelters and drug rehabilitation centers in areas of Boston.
​The quartet's current mentors are Katherine Murdock and David Salness, and they have worked closely with Paul Katz, Donald Weilerstein, Kim Kashkashian, and Soovin Kim.