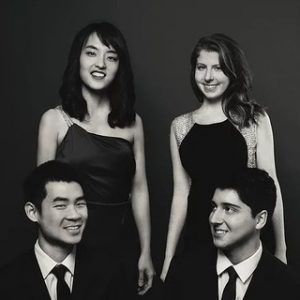 Comprising violinists Mason Yu and Erica Tursi, violist Jinsun Hong, and cellist Alex Cox, the Omer Quartet is a leader among today's young string quartets. Most recently first prizewinners of the Young Concert Artists Auditions, the quartet was also top prizewinners of the XI Premio Paolo Borciani Competition in Italy, the Trondheim Competition in Norway, the Bordeaux International Competition in France, and the Fischoff National Chamber Music Competition. Critics have praised the quartet for playing with a "sense of discovery and adventure, but also with considerable finesse." Having just completed a graduate residency at the New England Conservatory, they are currently the Doctoral Fellowship String Quartet in residence at the University of Maryland.
The quartet has performed with internationally renowned artists such as Kim Kashkashian, Clive Greensmith, Eugene Drucker, Cho-Liang Lin, the Assad Brothers, the Borromeo String Quartet, and collaborated with composers such as Sean Shepherd and Perry Goldstein. They were invited to the Banff International String Quartet Competition, the Great Lakes Chamber Music Festival, McGill International String Quartet Academy, the Ravinia Steans Institute, and the Perlman Music Program. They have also served on the faculty of New England Conservatory's Preparatory School.
Committed to community engagement, the quartet devotes time to creating original and interactive programs. They have inaugurated a Music for Food concert series with the help of grant funds from Tarisio Auction House in the metro-DC area with the mission to support local hunger relief. Their first concert created nearly 6000 meals and involved guest violist and founder of Music for Food, Kim Kashkashian alongside other University of Maryland faculty. Previous projects funded by grants included a Boston Foundation award to sponsor performances in venues such as homeless shelters and drug rehabilitation centers in areas of Boston.
​The quartet's current mentors are Katherine Murdock and David Salness, and they have worked closely with Paul Katz, Donald Weilerstein, Kim Kashkashian, and Soovin Kim.