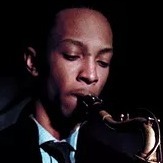 Marcus Elliot is a saxophonist/composer/educator of the metro-Detroit area who is quickly gaining recognition for his imaginative improvising, and fervently thoughtful voice on the saxophone. Marcus began playing professionally in the Detroit Jazz scene when he was 15 years old. He was awarded a scholarship for his talents as a musician to attend Michigan State University to study with Wes "Warmdaddy" Anderson, Diego Rivera and Rodney Whitaker.
After Graduating from MSU, Marcus has performed across the globe in places like Canada, Cuba, Barbados, South Africa, Namibia, Botswana, Eygypt, Jordan, Indonesia and many other countries. As a Band Leader, Marcus has led the Marcus Elliot Quartet for the past 8 years. He self-released his first album "Looking Forward", in 2010. His latest project "When The City Meets the Sky" was self-released in May, 2015. The Marcus Elliot Quartet Performs at Cliff Bells every Tuesday. As a Sideman, Marcus has performed with Bob Hurst, Karriem Riggins, James Carter, Jimmy Cobb, Bobby Broom, Marcus Belgrave, Johnny O'neal, Jimmy Heath, Sean Dobbins, Kris Johnson, Thaddeus Dixon, Ettiene Charles, Mulgrew Miller, Rodney Whitaker, Talib Kweli and many others.
As an Educator, Marcus has been giving private saxophone lessons since the age of 14. He is the Artist-in-Residence at Troy High School, and was the Director of the Detroit Symphony Orchestra's Civic Jazz Band in 2012-2013. He was the saxophone instructor at The Young Musicians Program in Berkley, CA from 2009-2011. Marcus is a strong supporter of the arts and has created and funded a scholarship at Milford High School that gives monetary awards to young musicians and visual artists that plan to pursue the arts after high school.
He currently lives in the Detroit area where he is studying, practicing, composing, and engulfing himself in the rich history of the Detroit music scene by performing with local Detroit artists and ensembles.